SAFARIS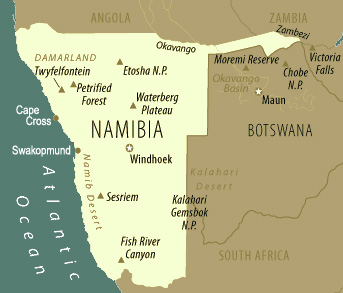 Your holidays in Namibia should be planned carefully. Namibia is a vast country with many attractions spread over enormous distances. Yes, one can do it all on the ground by vehicle, however fly-in safaris can be a time-saving alternative, especially for those who would like to visit the far north.

Whatever your decision, your choice will inevitably involve many hours of driving on gravel roads. Driving in the bush does require some skill and the roads are mainly sandy or gravelly. Most tourists are not familiar with 4x4 vehicles and are not used to off road driving.

It is therefore recommended that you book a safari including a private tour guide with the vehicle. He will fetch you from the airport, accompany you on your travels and double as a mobile encyclodedia in an air-conditioned 4x4. With him you will be able to see areas tourists are unable to access on their own. All tourguides are qualified and have an in-depth knowledge of nature, wildlife, fauna, flora and will be able to keep you riveted with adventure stories around the camp fire. He will enable you to relax completely and to fully absorb the beauty of our country.

If, however, you do decide to go for a Self-Drive option, we will gladly assist you in all aspects. Forward us your flight dates and time available – we will organise the rest. This includes booking the vehicle and the relevant camping equipment, making reservations at the various hotels, lodges or camp sites. We will even arrange and book your activities such as parachuting, scenic flights or seal and dolphin cruises.
Daytours into the Namib Desert (Secrets of the Namib Desert):

0.5 day

Luxus Lodge Safari

Afternoon Tour

0.5 day

Luxus Lodge & Campen - Fly in

Family Funday

1 day

Lodge, Gästefarm, Kinder willkommen
15 Day Luxury Lodge Safari with private 4x4 vehicle and guide. You will esperience all the highlights of Namibia and overnight in the most beautiful lodges the country has to offer.

Every hour is unforgettable – each moment indelibly etched into your soul. African romance in abundance!

Route:

Windhoek to Windhoek

Highlights:

Namib Rand Nature Reserve with unending vistas, Sossusvlei with the world's highest dunes, Swakopmund, the quaint German colonial town on the coast, Damaraland in the north – during the day we search for the lord of this realm, the desert elephant, in the evenings round off a perfect day with a sundowner on the rocks at Mowani Lodge, Etosha National Park with its lit waterhole, Onkonjima – home of a wild cat rehabilitation centre, Windhoek

Details:

Luxury Safari with 14 overnights, 1 day room, all meals included, park entry fees, open vehicle game drives at the lodges, minibus/4x4 vehicle for your personal transport en route, all petrol costs, cooldrinks in the vehicle, professional tour guide.
19 Day Luxury Lodge & Camping Safari with private 4x4 vehicle & guide and Fly In service. Experience the diverse natural backdrops of Namibia – from the desert to tropical rivers – overnight in wonderful lodges and spend a breathtaking night under the stars in a camp especially erected for you. This safari will open your soul to Africa …

Route:

Windhoek to Windhoek

Highlights:

Namib Rand Nature Reserve with breathtaking views across the Namib Desert, Sossusvlei with the world's highest dunes, Swakopmund, the quaint German colonial town at the coast, camping in dry riverbeds in Damaraland, Mowani Lodge with a visit to the rock engravings, flight to the north to Serra Cafema Lodge, onward flight to Epupa Falls, Etosha National Park with floodlit waterhole, Windhoek

Details:

Luxury Safari with 12 overnights in lodges, 6 overnights in luxury campsites, 1 day room, all meals included, Fly In service in small aircraft, park entry fees, open vehicle game drives at lodges, minibus/4x4 vehicle for your personal transport, all petrol costs, professional tour guide
14 day family safari with private 4x4 vehicle and guide. Enjoy the highlights of Namibia and submerge yourself into limitless Africa. We have hand-picked a selection of child friendly lodges. A family adventure safari which includes close up encounters with animals, sandboarding in the desert, kayacking amongst the seals, camping under the stars, wildlife at a floodlit waterhole, a lion feed, rhinos at close range and… mom and dad too can relax.

Route:

Windhoek to Windhoek

Highlights:

The world's highest dunes in the oldest desert on earth, Swakopmund, the quaint German colonial town on the coast, Omaruru a private wildlife reserve with close encounters with animals, Damaraland - searching for desert elephant, Etosha National Park, a lion feed, hippo, giraffe at Mount Etjo Lodge

Details:

Safari with 14 overnights, all meals included, park entry fees, open vehicle game drives at the lodges, minibus/4x4 vehicle for your personal transport en route, all petrol costs, professional tour guide
10 day safari - central point being the wild beauty of Namibia's northern region - with private 4x4 vehicle & guide. The main focus of this Safari is the Caprivi, the narrow strip of land on the north-eastern side of Namibia, which lies directly between Angola, Zambia, Zimbabwe and Botswana. We start with a game drive through the African bush and later you will be able to observe elephants and hippo from a boat on the river. The culmination of your African safari will be your visit to the Victoria Falls. The lodges conjour up feelings of yesteryear: an era of explorers and pioneers.

Route:

Windhoek to Windhoek

Highlights:

African bush, Hoba Meteorite, Otjikoto Lake, Tsumeb, Caprivi Strip, national parks with close wildlife encounters, boat trips, Victoria Falls

Details:

Safari with 10 overnights, all meals included, park entry fees, open vehicle game drives at the lodges, boat trips, minibus/4x4 vehicle for your personal transport en route, all petrol costs, professional tour guide
14 day safari through Africa. 1 week Namibia, with private 4x4 vehicle and guide plus 1 week Botswana. From the world's highest desert dunes in the south to the waterfalls in the far north. The second part of the tour is a fly in safari, conjuring up images of the film "Out of Africa". You will soar high above the vast landscapes of Africa, observe wildlife from a bird's eye perspective and immerse yourself in the beauty of creation. Surely this is how it must have been in the Garden of Eden …

Route:

Windhoek to Windhoek

Highlights:

Namib Naukluft Park, Swakopmund, Damaraland with its desert elephant, Etosha National Park, Caprivi, Okavango Delta, Victoria Falls

Details:

Safari with 14 overnights in luxury lodges, all meals inclusive, park entry fees, open vehicle game drives at the lodges, minibus/4x4 vehicle for your personal transport en route, 4 x fly in service to the lodges viz. out of Livingstone to Johannesburg, all petrol costs, professional tour guide/ranger
Join us on a close-up look at the Namib Desert! At the first glance the Namib appears life-less and deserted. The Secrets of the Namib Tour is designed to make you sit up and go "WOW". We will take
you on a unique dune tour in 4x4's and explain the survival systems of desert adapted animals and plants. You will have lots of photographic opportunities, not just of dunes, but also of Side Winder snakes, Palmetto Geckos, Desert Chameleons and lots more…

TIP Make sure to bring a macro lens for the close-ups

Duration:

4-5 hours (8h00 – 13h00)

Included:

pick-up & drop-off and beverages

Departure:

on request – weather permitting
This tour will take you over the 'moon landscape' and to the 'time of the dinosaurs' in a short span of
4 hours. We round this splendid tour off with a glass of sparkling wine experiencing a spectacular sundowner.

TIP Camera wide-angle lenses are great to bring with!

Duration:

4-5 hours (14h00 – 18h30)

Included:

pick-up & drop-off and beverages

Departure:

on request – weather permitting
Our fun day includes an informative eco-friendly dune drive through the coastal dune belt to dune 7,
where we stop for an extended lunch. 'Braai packs' and beverages included. After lunch you will have
opportunities to experience the dunes either on flat boards, the Hydro Ball or quad bikes as an extra
activity!

Duration:

full day (9h00 – sunset)

Included:

pick-up & drop-off, beverages
& lunch packs

Departure:

nach Absprache und abhängig vom Wetter